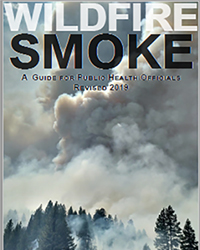 The Wildfire Smoke Guide for Public Health Officials, released August 22, includes information on protecting children from exposure to wildfire smoke.
An accompanying fact sheet explains the ways in which children are vulnerable to smoke and ash exposure.
The guide was produced through an interagency collaboration of the California Air Resources Board; California Office of Environmental Health Hazard Assessment; U.S. Centers for Disease Control and Prevention; U.S. Forest Service; and U.S. Environmental Protection Agency.