Background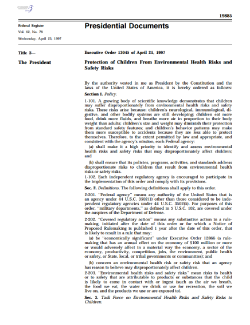 In April 1997, President Clinton issued Executive Order 13045, establishing the President's Task Force on Environmental Health Risks and Safety Risks to Children (Task Force).
Executive Order 13045 - Protection of Children from Environmental Health Risks and Safety Risks
Childhood represents a series of vulnerable life stages. Children are critically vulnerable because their neurological, immunological, digestive, and other bodily systems are still developing. Therefore, exposures during childhood may have profound and long-term consequences that are not completely understood. Children eat more food, drink more fluids, and breathe more air in proportion to their body weight than adults. As children explore their environment, crawling and making hand-to-mouth contact, the risk of encountering harmful exposures is high. Because of children's unique vulnerabilities to the potential health effects of environmental exposures, it is imperative that we better understand and protect their wellbeing by creating and preserving a healthy environment. Furthermore, there are significant disparities in health outcomes across racial, ethnic, and socioeconomic status. Some children, including those in racial and ethnic minority groups and those living in poverty, bear a disproportionate burden of exposures to environmental hazards that may negatively affect their health and wellbeing over the course of their lives.
In 1997, President Clinton issued Executive Order 13045, calling for each federal agency to "ensure that its policies, programs, activities, and standards address disproportionate risks to children that result from environmental health risks or safety risks." EO13045 established the President's Task Force on Environmental Health Risks and Safety Risks to Children (Task Force).
The Task Force has addressed issues such as childhood asthma, unintentional injuries, lead poisoning, developmental disorders, childhood cancer, and climate change. The Task Force also recommended the initiation of a prospective cohort study, from birth to adulthood, to evaluate the effects of both environmental exposures on child health and human development. This effort became the National Children's Study, which has now been transformed into the Environmental Influences on Child Health Outcomes (ECHO) Program.
At the beginning of the Obama Administration, an interdepartmental working group of senior staff was established to support the work of the Task Force—the Senior Staff Steering Committee (Steering Committee). The Steering Committee serves as a source of information and provides a forum for government and non-government officials to interact. It is co-chaired by the U.S. Environmental Protection Agency (EPA) and the Department of Health and Human Services (HHS).
While there have been laudable efforts to assess and address the environmental health and safety risks to children, including the work of the Task Force, considerable disparities in health outcomes persist, and there is still a need for a coordinated federal effort to address these disparities. The Task Force plays a critical role in the coordination of efforts to identify research needs and priorities that impact children's environmental health, as well as to maximize the productivity of research resources to benefit children. In particular, increased awareness of emerging environmental health risks, such as new materials and chemicals in commercial use and climate change impacts on children, present complex challenges that may be best answered through coordinated efforts.
The Task Force brings a number of valuable assets and benefits to tackling the issues of environmental health risks to children and to identifying and implementing strategies to promote children's health resilience.
Coordinating and integrating efforts allow for synergy among government leaders; and supporting consistent messages and information helps further the understanding of complex public health topics.
Leveraging each agency's unique expertise, resources (human, facilities, funding mechanisms), perspectives, and diverse stakeholder networks greatly improves the government's ability to create effective and productive collaborations to address major public health and safety issues in an efficient manner.
Forging partnerships among federal agencies, as well as with other public and private partners, extends the reach and effectiveness of efforts and enhances the public's awareness, understanding, and ability to effect change to address these issues.
Working together through the Task Force, the federal government can continue to protect current and future generations by understanding and preventing negative environmental health impacts and helping to ensure opportunities for the development of healthy, more resilient children.
Connecting
Senior Staff Steering Committee Co-Chairs
Leith J. States, M.D., M.P.H., M.B.A.
Chief Medical Officer;
Office of the Assistant Secretary for Health;
Department of Health and Human Services

Grace Robiou, M.P.H.
Director, Office of Children's Health Protection;
Office of the Administrator;
U.S. Environmental Protection Agency
Members
The list below includes member agencies named in the original Executive Order, as well as additional ones that now actively participate in the Task Force.
Assistant to the President for Economic Policy

Assistant to the President on Domestic Policy

Consumer Product Safety Commission

Council of Economic Advisers

Council on Environmental Quality

Department of Agriculture

Department of Commerce

Department of Education

Department of Energy
Department of Health and Human Services

Department of Homeland Security

Department of Housing and Urban Development

Department of Justice

Department of Labor

Department of Transportation

Environmental Protection Agency

Office of Management and Budget

Office of Science and Technology Policy