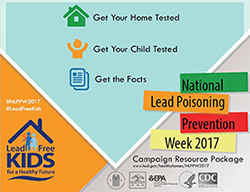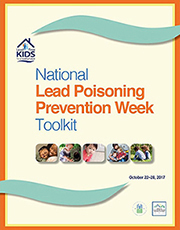 National Lead Poisoning Prevention Week (NLPPW) is October 22-28. This year's theme is "Lead Free Kids for a Healthy Future." Task Force members including the U.S. Department of Housing and Urban Development (HUD), the Centers for Disease Control and Prevention, and the U.S. Environmental Protection Agency have developed outreach materials to help generate awareness and educate parents about protecting kids.
The goal is to encourage organized, community events, and to empower families to take action. Across the nation, stakeholders will host and participate in outreach and educational activities designed to raise local awareness about the dangers of lead exposure and poisoning, and to educate parents about how to reduce exposures to lead in their environment in order to prevent serious health effects, and about the importance of testing children for lead.
The call to action is:
Get your home tested: find out how to minimize risks to lead exposure
Get your child tested
Get the facts
The NLPPW Campaign Resource Package provides details about NLPPW and downloadable materials for community outreach.
The NLLPW Toolkit , created by HUD, provides:
Information about lead poisoning and how to prevent it
Steps for implementing NLPPW