Please Note / January 2023
The Healthy Settings Subcommittee is inactive. The President's Task Force responds to issues related to this topic through other active Subcommittees. The information on this activity has been retained for archival purposes.
Purpose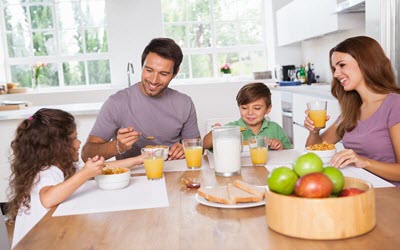 The purpose of the Healthy Settings Subcommittee is to address unhealthy and inadequate housing that can disproportionately affect the health of children.
The concept of healthy homes and spaces includes eight primary characteristics: dry, clean, pest-free, safe, contaminant-free, well ventilated, well maintained, and thermally controlled. This subcommittee works to promote these characteristics through five goals:
Establish healthy homes recommendations
Encourage the adoption of healthy homes recommendations
Create and support training and workforce development to address health hazards in housing, including building a cadre of trained experts to deliver healthy homes services such as weatherization and retrofitting
Educate the public about healthy homes
Support research that informs and advances healthy housing in a cost-effective manner
Accomplishments

Advancing Healthy Housing: A Strategy for Action
In February 2013, the Federal Healthy Homes Work Group, under the guidance of the Task Force, released Advancing Healthy Housing - A Strategy for Action, which aims to reduce the number of American homes with residential health and safety hazards.
Healthy Homes App


The Healthy Homes Basics app offers practical how-to guidance on how to have a safe and healthy home, right at your fingertips. The app offers introductory information and guidance for consumers by teaching the "Principles of a Healthy Home." For those users more familiar with healthy homes concepts, the app features detailed information by topic. The app is available on App Store.

Healthy Homes Training Center
In 2008, recognition of the need to increase the capacity of people and institutions who are knowledgeable about healthy homes issues in the United States led to the creation of the Healthy Homes Training Center (HHTC). This entity comprises a network of training partners who deliver a full catalog of training courses on healthy homes. Most recently, the HHTC formed a partnership with the Building Performance Institute (BPI) for the purpose of providing to BPI-certified building analysts a "micro-credential" in healthy homes that will enable them to include information about the health impact of home conditions in their housing assessments. This partnership offers education on healthy homes to more than 21,000 BPI-certified building analysts and others. Trainings are offered online or in person.

Promoting the Adoption of Smoke-Free Policies in Federally Assisted, Multifamily Housing
Since 2011, the Task Force has worked to communicate the benefits to children's health of smoke-free housing policies. Staff of Task Force member agencies have presented such benefits at regional and national meetings of housing organizations, as well as promoted smoke-free multi-unit housing policies to HUD program participants. In 2015, a smoke-free housing regulation was proposed, which received over 1,000 public comments. Since the development of this proposed rule, more than 650 public housing agencies nationwide have adopted smoke-free policies in some or all of their units. To support these changes, HUD created smoke-free housing toolkits for residents and owners/managers, and published Change Is in the Air: An Action Guide for Establishing Smoke-free Public Housing and Multifamily Properties.
Promoting the Use of Integrated Pest Management in Low-Income Housing

Since 2007, Task Force members including HUD, USDA, EPA, CDC, and others have partnered on the Stoppests initiative to promote Integrated Pest Management (IPM) in housing. Stoppests provides training and technical assistance to affordable housing providers, including public housing agencies and Tribally Designated Housing Entities, who implement IPM programs in some or all of their properties.The Stoppests website serves as a repository of IPM experts and resources across the United States, including webinars on management of household pests including bedbugs and The IPM Guide for Affordable Housing. The program has established a national advisory group of experts and staff who serve as a resource for HUD program managers on questions about pest detection and control.
Resources